Bastille Day or La Fête nationale is a French holiday that celebrates French independence. Every year, FIAF, the French Institute Alliance Française, hosts Bastille Day on 60th which is NYC's largest public celebration of the holiday with a day of French food, culture, and entertainment. The festival was held on 60th Street and between Lexington and 5th Avenues from 12PM-5PM. This year, I finally was able to attend with my sister, and we had a fantastic time!
Popular French restaurants, bakeries, and specialty food booths lined 60th Street to create a unique shopping and tasting experience. DBGB, Epicerie Boulud, Amali, and Japanese creperie, Eight Turn Crepe were among some of the popular restaurants offering delicious food and even rose wine popsicles. Dominique Ansel Bakery, Canelé by Céline, Francois Payard Bakery, Payard Patisserie, and Bosie Tea Parlor were quickly and happily selling out macarons, caneles, eclairs, and other delicious pastries. My favorite tea purveryor, Palais des Thés, and the fine Dijon mustard brand Maille served refreshing teas and savory bites to all the curiously hungry guests.
Naturally, our first stop was Canelé by Céline. It's not a proper celebration of Bastille Day or any French holiday, occasion, or event without the best, and our favorite caneles in NYC! I highly recommend trying the rum and caramel flavors if you have a sweet tooth. Those two are classics. For savory types, I suggest the black truffle and chorizo. The black truffle is seriously a meal in a mini bite, and it's hard to resist! We picked up raspberry, one of the seasonal flavors, and a bunch of the usuals - black truffle, blueberry, chorizo, caramel, dark choco, pistachio, and rum. In addition to caneles (mini and original sizes), Céline makes financiers, and other traditional French specialities that are available online and at her UES shop on 82nd St. and 1st Avenue. You'll want to take home all of the pastries when you visit!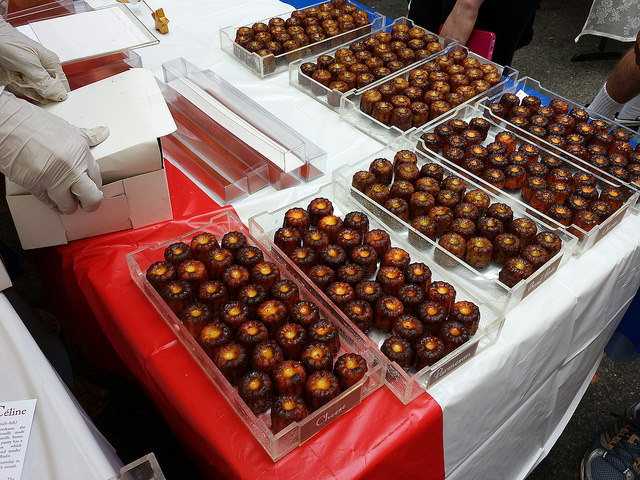 Maille had recently completed a tour of the Northeast with its mobile mustard truck. My sister and I sampled five different types of mustard with cornichons and salted pretzel sticks. The flavors we tried were the Dijon Originale (the classic), Honey Mustard, Horseradish, Old Style, and Rich Country. I have to say, my favorite flavor was the Old Style. There's something about the whole grain that gives it a very nice texture, and sharp taste on the palate.
We briefly paused on our trek down 60th towards Lexington Avenue so I could capture this mime moment.
Discover Beaujolais had a photo booth at the festival, and just like the one at the Taste of France event last summer, we seized the opportunity to pose for another silly photo. Plus there was a FIAF Twitter challenge was going on, and we wanted to participate in it using our picture. It appeared that we were one of the very few who chose to pose with vineyards scene in Beaujolais. Most people selected the Paris background. I guess they didn't realize that Beaujolais isn't in Paris or vice versa. We gave it our best look in the photo below!
Before heading over to meet my friends to watch the World Cup Final match between Germany and Argentina, I stopped by the FIAF VIP Lounge for the wine tasting. No other way than to enjoy a Sunday afternoon in the fine French way!
Bastille Day on 60th is a fun and exciting event that allows you to experience all aspects of French food and culture with friends, family, and other Francophiles. Hope you'll be able to check it out next year! I'm already looking forward to it.